There are many guys like Shimon Hayut in India too. One of them is Yogesh Bhadana, who goes by the name Yash on social media. He has a profile on Aisle and probably on other platforms too. We spoke to some of his victims and one of them was able to share screenshots of his chat about how he lied about his father's death and made up stories to extort money from her. 
This is how he looks: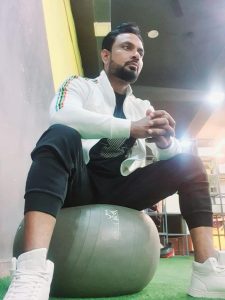 Yogesh Bhadana lives in Faridabad with a woman probably his mother or could be wife too. He works at this gym named Physique First Gym and Spa and claims to be the owner of the gym. He even claims to have a gym in Kalkaji and 2 wine shops in Gurgaon and Faridabad. He has be lying and cheating women since many years now, it is only now that we have found proof that this fraud is roaming freely around us, dating women by saying that he would marry them and he is truly in love with them. He claims to be a millionaire and always wears branded clothes to show people that he is affluent and can afford to move to Canada and live there luxuriously. 
Yogesh Bhadana shares these photos of his father, his sister and his mother with every woman he meets. We don't know if these people are really his relatives or he is simply sharing photos taken with anyone he meets or knows.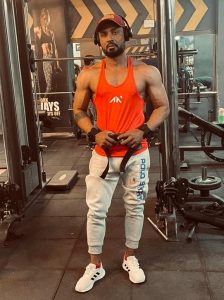 Now let's talk about the story of the victim who shared screenshots with us about his lies. She says that she met him on Aisle and talked to him there. They began dating after a week and after a month they celebrated valentine's day and on the very next day he shared a photo of a dead body. This dead body was Yogesh Bhadana's father. See the image below: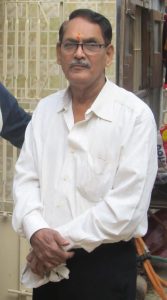 He probably shares this same photo with every girl. After he tells people that his father is dead he then says that he cannot purchase or spend money for 13 days. In the case of this victim, she said that his phone was stolen by his relative and he needs a phone to close some important deals that were his father's. Yogesh Bhadana tells women that his father was a builder and a known one. He also tells them that his father was the one who built Vivanta by Taj in Faridabad. He goes from town to town in his Creta to meet women from different cities so that he could show them that they are special and then buy things for them, and then suddenly begin asking for money or asking them to spend money for him on their credit cards. 
In the screenshot below Yash Bhadana is asking the victim to buy him a phone and she buys him the phone because he promises that he will pay the EMIs without fail, but if you see all the messages he doesn't pay the EMI in the end and cheats her. He probably then simply archived her instead of blocking and never checked her messages.
This person then went to the police to report this fraud, but the police was not able to help her. 
She said to them, "Yash Bhadana ek fraud hai jo logo ko online cheat karta hai. This is online fraud" but the police said that why did you buy him the phone without checking everything. She said, "I was trying to help him because our families were already involved and I didn't want to look bad in front of my future in laws" She was certainly naive, the policemen laughed at her and she had to go back. Not even an FIR was raised against him and he is now roaming freely cheating other women.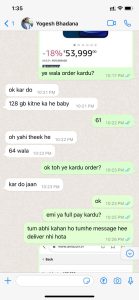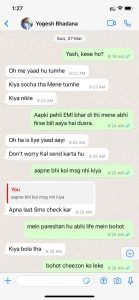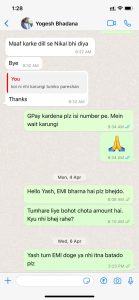 We have decided to write about this and publish this so that the women of India are careful about such people. Online dating seems easy but there could be such people who would just want to cheat you. Yash Bhadana kind of people need to be put in check and we request women with similar stories to write to [email protected] We will create your posts and share it with the people around India. Do not people like Yash Bhadana, report them or maybe even loot them in return instead. 
Here is the Facebook profile and Insta profile of Yogesh Bhadana. We have also shared his phone number.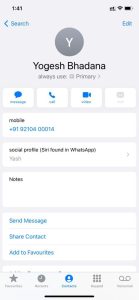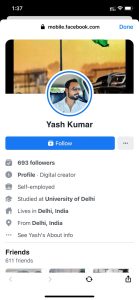 We hope that nobody else become a victim of this cheater named Yash Bhadana. Remember he is from Faridabad, he lies about being rich and he will also swear on his mother for his lies to make you believe him. He also claims to be a virgin even though he is about 35 years now and is a father of a child. Beware Indian women!