Ideally, babies begin to be trained to use their own eating utensils when they are 9 months old. Apart from training their motor skills, mothers can also start to cultivate the ability to eat by the babies themselves. At this stage, mothers must choose the right and best food menu, of course. However, one more thing that is no less important is choosing the right cutlery or feeding set.
Moms, choosing a feeding set for babies and kids should not be arbitrary. There are several things to consider before buying it, such as the material. This is closely related to safety, practicality and health for your babies and kids.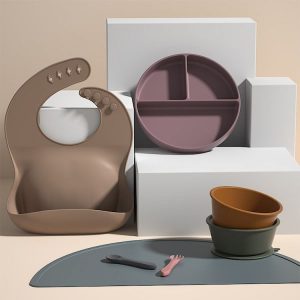 Silicone feeding sets have become very popular in recent years and have been proven safe for use by babies and children. There are many attractive designs and colors. In addition, silicone feeding set is known to be durable and environmentally friendly.
However, the sheer number of products on offer may make you confused which one to choose. So, below we present complete guidelines on how to buy a durable and eco-friendly silicone feeding set, easily and precisely. Read on for more and don't miss a single one!
Choose Food Grade Silicone Materials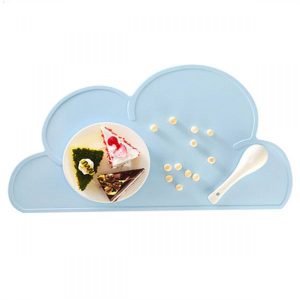 Silicones that are safe for use in the manufacture of feeding sets are those that have food grade labels, are FDA certified and BPA free. Remember, the feeding set is in direct contact with food that will enter the baby's body, so the safety of the material is the main thing.
Please read the product description carefully before you buy. Make sure you opt for a silicone mold supplier that provides feeding sets made of safe and best quality silicone material, which will not react to food ingredients, odorless, and does not cause allergies.
Choose Products That Are Heat Resistant And Can Maintain Food Temperature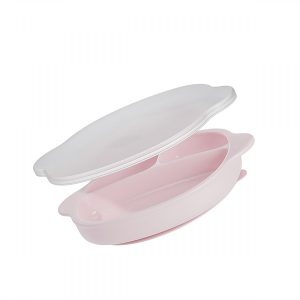 Feeding sets that can be used in various situations are indeed very practical. If you want your baby's food to stay warm, check whether the product you are going to buy can protect the temperature of the food well.
In addition, also pay attention to the heat resistance. The feeding set made of high quality silicone material has excellent heat resistance. Even up to a temperature of 240 degrees Celsius, the product will not deform nor will it freeze at -40 degrees Celsius. So, you can use it for steaming, boiling, baking, and even use it to store food in the freezer.
Choose Safe Shaped Silicone Feeding Set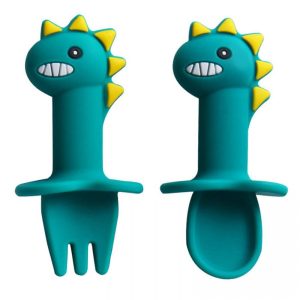 Silicone feeding sets are considered safe for babies and children because they are not easily broken, weightless, flexible, and have a smooth surface. However, you still have to pay attention to the product design.
Avoid cutlery products that have sharp edges. We certainly do not want the part to pierce the baby's skin or injure them. Hence, you should choose a blunt and harmless product. For example, choose a spoon and fork set that has no sharp edges so it's safe for your little one to use.
Consider The Design And Color
Next, you can consider opting for attractive designs and colors. It's not the main choice, but you still have to try to buy the cute one.
The attractive design and color of the feeding set will make your little one more cheerful and enthusiastic to learn to use it on their own. Take for example when you are going to buy a silicone cup. Instead of buying a regular cup, you can choose the cute and colorful Silicone Panda Sippy Cup.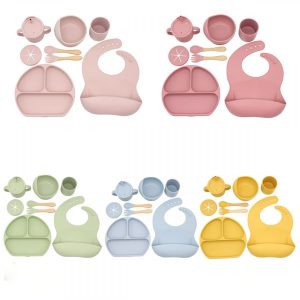 If you really prioritize practicality, then don't forget to check its features. You can buy a silicone feeding set that is equipped with a placemat and a baby bib which is practical and more affordable. This set usually includes matching colored plates, bowls, cups, spoons and forks. So you don't need to buy it separately.
Go To The Easy To Wash Silicone Feeding Set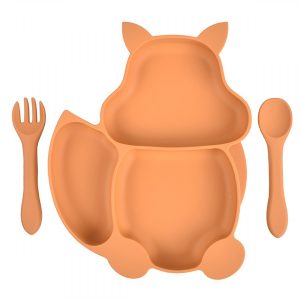 This may seem simple, but to choose a durable and eco-friendly silicone feeding set, you also need to consider whether the product is easy to clean. The best silicone feeding set does not make oil stick to the surface and does not absorb oil from food, so it is very easy to clean and reuse. Plus, it won't leave a soapy scent after washing, so it's ideal for babies and kids.
To ensure that babies and kids eat safely, the food utensils you prepare must also be of high quality. Don't hesitate to choose a silicone feeding set that has been proven safe and has many attractive designs. And make sure you follow the guidelines above when buying a durable and eco-friendly silicone feeding set